Machine Size:
1440*1300*2250mm
Transport Package:
Wooden Case
Specification:
CE & ISO9001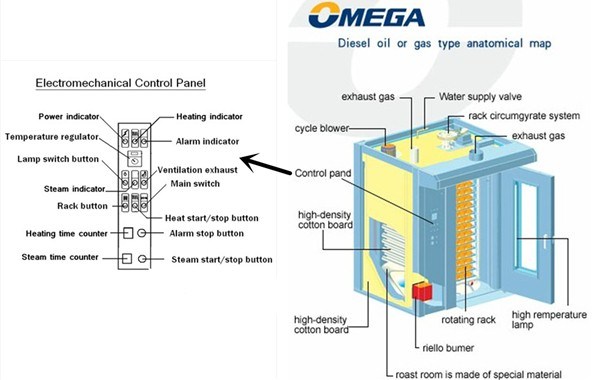 1.  Gas, Electric OR Diesel can heat the oven. 
You choose any way you prefer. We call it Gas baking Oven, Gas heated 
baking Oven, Electric bakery oven, or Diesel baking oven and Diesel fired ratary oven.
2.  Efficient low-energy,super insulation
The rotary rack oven bake the most bread within the limited time. 
3.  Absolutely safe
4.  CLEANLINESS AND ENVIRONMENTAL SAFELY
Our Rotary Rack Oven uses Diesel and Natural Gas, and are designed with special burning system that make the fuel 
burns well enough before expelled from the Oven. It is equipped with special automatic exhaust fan or The Diesel Oil 
container is made of special metal blower and so it make both the food and the production environment are safe and clean.
5.  Broad usage
The Rotary rack oven is suitable for baking all kinds of Breads, cakes Pies, Crisp spread steamed-bread and Chinese-styled cakes and so on.
6. Super vapour supply
The rotary rack oven needs vapour to work efficiently so it has been designed to contain 8 litres of water that can be turned 
into vapour within 20 seconds by a superb steam system. Sufficient vapour is supplied at any time in accordance with 
Technical requirement to satisfy the baker's desired food quality.
7.  DAYLIGHT ILLUMINATION 
Using daylight florescent lamp, people can really see and observe the fire to check whether it is burning at the required level 
through the double-glass-door.



 
Kinds of the food baking show: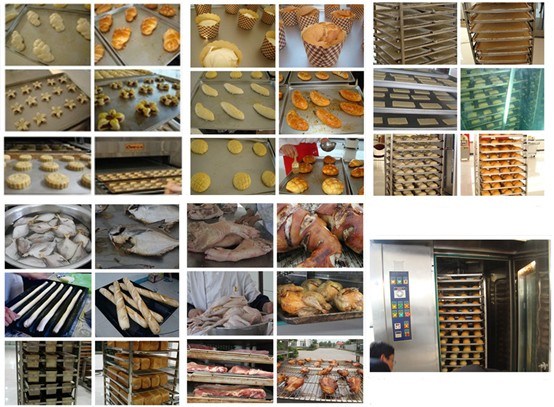 If need the vedio of our  machine working, pls contact me!!!
Oven Producing: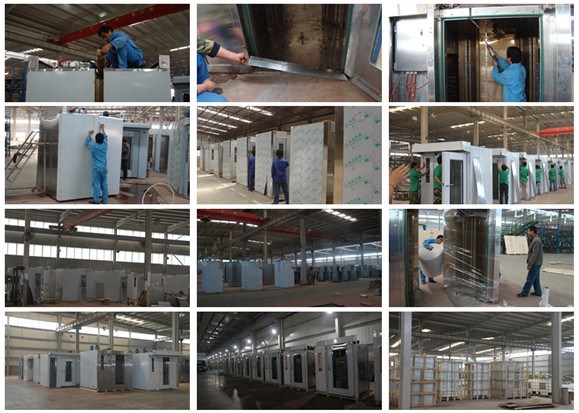 If you are a bakery or start a new bakery , choose me!!!!




If you are a food factory, choose me!!!!




If you are a foreign trade corporation or agancy and dealer, choose me !!!!




If you are the same manufacture,

 

also choose 

me

!!!!
If you are a small customer, is 
also 
very welcome !!!!
Our company display:
We are a 
one of the largest 
professional 
baking machinery more than 30 experience in china 
and 
possess standard manufacturing workshop, advanced fabrication process and equipment, 
strong technical power, scientific management, and strict quality requirement.
Our bakery machinery includes:  Bake rack ovens, Spiral mixers, Convection ovens, Deck ovens, 
Tunnel oven, Proofer, Dough dividers, Planetary mixers, Dough sheeters, Bread slicers,Bread moulders, 
Water chillers, Bread production line, and machine parts, and so on.
       Why so many clients choose us:





1) We are a factory specializing in manufactring food machineries

 more than 30 experience

, 
can offer products of 

reliable 

quality and competitive price.

 To promote our cooperation and we will try our best to do for you. 
You can use the better price to buy the better quanlity products from our company compare with other company.


2) Over 98% of our products are exported to oversea markets; 

the high quanlity of our products is the reason of 
we have a good market in the world. 

we can 

also 

make the designs as your demand and requirements.




3) OEM and ODM service Available, as we have strong R&D team.




4) One year  warranty. Lifetime technical support.




5) One-stop service.

 We will provide the best service here.


 


If you are interested in our products or if you have special requirements

, 
welcome to 

Contact Us With Any Enquiries! 





Pls Feel free you may also come to visit and inspect our factory. So welcome here!




Thank you! 
Model
 
Trays Dimensions/qty(cm)
Baking Surface(m2)
Hourly Output(kg)
Thermal and electric power(kw)
External DimensionsW*D*H(cm) 
Mass(kg)Â 
Energy
 
R4060EÂ Â Â Â 
Electricity
40*60/18
4.3
50
21
108*136*225
650
R4060DÂ Â Â 
Diesel Oil
1.5
R4060G
Gas
R5070EÂ Â Â Â 
Electricity
50*70/18
4.5-6.3
82
28
144*130*225
850
R5070DÂ Â Â 
Diesel Oil
1.5
R5070G
Gas
R6080EÂ Â Â Â 
Electricity 
60*80/18
40*60/36
5.7-8.6
120
42
173*150*240
1100
R6080DÂ Â Â Â 
Diesel Oil 
2.0
R6080G
Gas 
R8080EÂ Â Â 
Electricity
80*80/18
10-11.5
160
47
198*172*240
1150
R8080DÂ Â Â 
Diesel Oil
2.0
R8080G
Gas
R80100EÂ Â 
Electricity
80*100/18
9.7-14.5
195
58
210*183*240
1400
R80100DÂ 
Diesel Oil
3.0
R80100G
Gas
R80120EÂ Â 
Electricity
80*120/18
2/60*80/36
2/40*60/72
12.8-17.2
235
71
240*205*240
1800
R80120DÂ 
Diesel Oil
3.75
R80120G
Gas
 
Auto electronics
Guangzhou Ruicheng Enterprise Services Co., Ltd. , https://www.rayparts.cn