In 2017, the cumulative sales volume of excavators in Heilongjiang Province was only 1,200 units, which is at a downstream level in all domestic provinces. However, in recent years, the economic recovery trend in the three provinces in Northeast China has become more obvious. Therefore, in the future, the sales volume of excavators in Heilongjiang Province is also expected to show a growth trend. So, in Heilongjiang Province, what types of excavators are more popular in 2017 and what are the better choices in 2018? Analyze it together.

From the perspective of brand competition, domestic brands have slightly better sales. The top eight brands sold in the market were Sany, Komatsu, Shandong Lingong, Caterpillar, Foton Lovol, Hitachi Construction Machinery, XCMG, and Volvo. Among them, Sany sold nearly 260 units, and the top four brands sold more than 100 units.
From the tonnage point of view, Heilongjiang Province, the highest sales of 6 <a ≤ 13 tons excavator, reaching 370, accounting for about 30% of total sales; followed by 5 ≤ a ≤ 6 ton interval, sales of 230 units, and 19.5 <a ≤ 24.9 Tonnage range, sales of 190 units.
Specifically look at the best-selling models. In 2017, the total sales volume of excavators in Heilongjiang Province was not high, and the single model was also lackluster. There were no models with sales exceeding 100 units, and there were only 15 models with sales volume of 20 or more.
However, it is worth mentioning that the market sales of the first four models were all swept by March 1, respectively SY75C-10 , SY55C-10 , SY60C , SY245H , of which SY75C-10 sales of 84 units, the other three are more than 30 station.
The other top ten models sold in the market were Shandong Lingong E660F , Sany SY215C-9 , XCMG XE75D , Volvo EC120D , Shandong Lingong E6135F , Komatsu PC70-8B, and XCMG XE60D (the latter three sales are tied).
In addition, excavator users in Heilongjiang Province are still more concerned about the following models on the Internet (iron arm mall): Caterpillar 307E , Komatsu PC70-8 , Kobelco SK75-8 , Xinyuan XY90 and so on.
Related News: Excavator Model Heilongjiang
Copyright Notice:
This article is China Engineering Machinery Business Network () original, if you need to reprint must be in the form of hyperlinks to indicate the source, is strictly prohibited from any changes in the original text.
Door Frame Roll Forming Machine, this machine is specially designed for making door frame for various types doors like shutter door mainly. This type machine working speed could reach 25m/min. And for the material thickness is from 0.5-2.5mm.After roll forming by our production line, we could make very smooth and beautiful door frame without any scratch on surface. This metal door frame production line is composed by the following elements: De-coiler, feed & leveling device, punching machine with holes punching moulds, main Roll Forming Machine, cutter, run-out table, etc.This cold roll forming line adopts accumulator and PLC controller to generate a fast punching and shearing speed.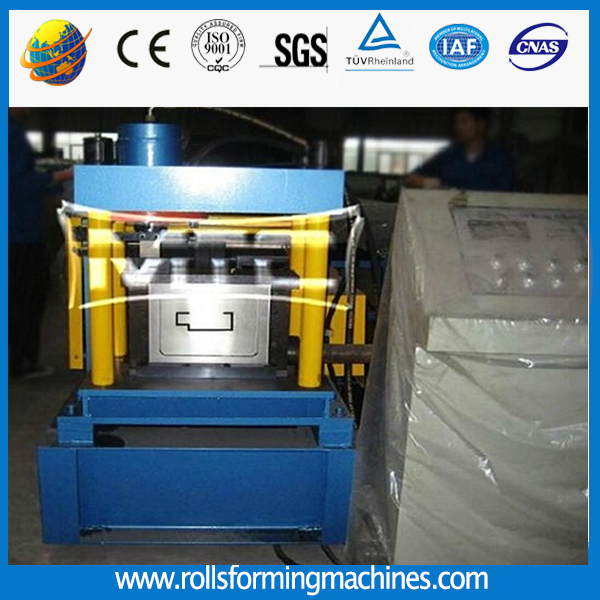 Door Frame Roll Forming Machine
Door Frame Roll Forming Machine, Aluminum Door Frame Roll Forming Machine, Metal Door Frame Roll Forming Machine
Zhongtuo Roll Forming Machinery Co., ltd , https://www.rollsformingmachines.com