Spindle Speed:
<5000rpm
Process Type:
Medium-Sized Processing
Optional Size:
Customized, OEM
Optional Material:
D2, M2, SKD, H13, 9crsi, Cr12MOV, W6mo5cr4V2
Surface Treatment:
Heat Treatment
Application:
Woodmill, Furniture Industrial
Origin:
Kunshan City of Jiangsu Province
* TCT woodworking planer blade, tungsten steel (hard alloy). With high wear resistance,
 Is 5~10 times of the white steel woodworking planer (for time due to soft and hard wood, wood material varies).
 Especially suitable for hard wood, wood, plywood and high impurity material.
 In order to reduce the number of grinding and auxiliary installation, greatly improving the work efficiency.
 
* HSS blade for woodworking planer, high-speed tool steel, suitable for soft wood processing.
 Such as: rubber wood, pine, birch, elm, maple, etc.

Dimension
Material
Application
56.0 x 5.5 x 1.1
TCT or HSS
For Adler
60.0 x 5.5 x 1.1
TCT or HSS
FOR Â Wegoma
75.5 x 5.5 x 1.1
TCT or HSS

FOR  AEG  Bosch  Festo  Haffner  kress  Mafell  Mafell  Metabo  
Skil  Holz-her Scheer 

78.0X5.5x1.1
TCT or HSS
FOR Â Virutex
80.5X5.5x1.1
TCT or HSS
FOR Â ELU
82.0x5.5x1.1
TCT or HSS
FOR  Makita  Bosch  Hitachi  Ryobi  AEG Skil  Haffner Holz-her  Mafell  Metabo  B&D Peugot
92.0X5.5X1.1
TCT or HSS
FOR  AEG  Hitachi  Ryobi
102X5.5X1.1
TCT or HSS
FOR AEG
Production Range:

From Application

Blade for cutting thin film

Blade for cutting plastic

Blade for cutting paper

Blade for cutting leather

Blade for cutting Rubber

Blade for cutting metal

Blade for cutting wood

Blade for printing& ink

Blade for cutting fiber

Blade for cutting Cardboard

Blade for cutting food

Blade for cutting Electrical material

Press Brake Tooling

Press brake Dies
 

From Shape

Circular Saw Blade

Rectangular knife

Teeth Type Knife

Repand Type Knife

Sharp-nosed Type knife

Strip steel blades

Trapezoid blades

Special blades
 

From Material

Carbide blade

Ceramic blade

Carbon steel knife

HSS blades

TCT tipped blade

Stainless steel blades
Our Features:

Material

 
Aluminum, Tungsten carbide, Mild steel ,Stainless steel, Chrome steel,
Cold rolled sheet, High Speed Steel, Bearing steel, brass, Copper, Bronze, Â 
Chrome copper, Mold steel ,SKH51,SKD11,SKS7,SK2,Cr12Mov,H13,9CrSi,
6CrW2SiW6Mo5Cr4V2,YG8,YT15,P20,K30 etc.
 

Surface Treatment          

Plated nickel, copper, zinc .etc. and anodized (Anodic oxidation can accord with
MIL - A - 8625 Type II standards) Hard Anodizing, owder coated, polished, sand
blasted, chemical surface treatment. As customer's request
 
Our Advantages:
1. We are factory providing all kinds of cutting blades, also can manufacture according to your drawing.
2. Low MOQ (1pc is even acceptable in some special conditions)
3. Offering free and quick prototyping (normally 1 week)
4. A series of secondary service available, like casting; forging; welding; heat treatment etc.
5. Top quality guaranteed by skilled workers, managing system and status of facilities.
6. Customized size and spec /OEM available
7. Near Ningbo and Shanghai, convenient transportation
Our Mission:
Quality & Service: our always have been providing our clients with great quality products and superior customer service.
 
Quick LeadTime: We're dedicated to providing the quickest turnaround times and work very hard to ensure that all of your deadlines are met.
 
Unbeatable Prices We continuously strive to find ways to reduce our production costs, and pass the savings over to you!
In the term of number of cylinder, this kind of Sock Knitting Machine only has one cylinder, that's why it is called Single Cylinder Sock Knitting Machine. Compared to Double Cylinder Sock knitting Machine, it can make much more various and colorful socks.
Computerized Sock Knitting Machine is composed of two parts: electronic parts and mechanical parts. Sock designs can be done through the software. Usually 84n 96n is used to make new born baby socks; 108n 120n for infants' socks, 132n teenagers' socks, 144n 156n 168n are for adults socks, 200n is for quality men's socks.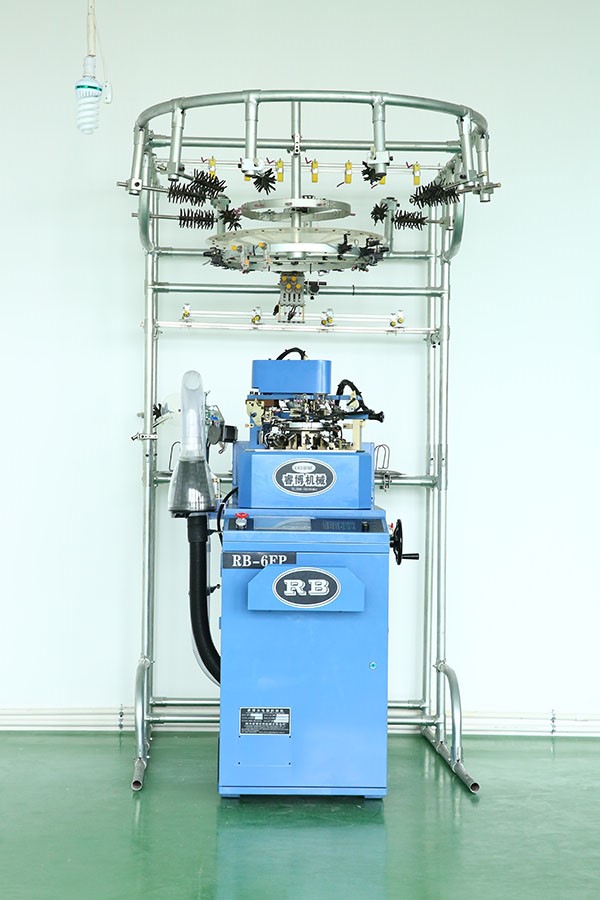 Single Cylinder Sock Knitting Machine
Socks Making Machine,Socks Sewing Machine,Single Cylinder Sock Knitting,Single Cylinder Knitting Machine
Shaoxing Keqiao Rainbowe Import & Export Co., Ltd. , http://www.rainbowe-machinery.com